The Hills Around Murrieta Explode Color Every Spring
Here's how to enjoy the Spring flower power.
What's more beautiful than Murrieta's verdant, rolling hills and spectacular year-round sunny weather? What about a fresh rainbow-pop of color, brought to you by the dazzling bloom of wildflowers sprung to life by the grace of spring?

That's what you can expect — to a varying degree — each spring in the Lake Elsinore and Murrieta regions. Rainfall, sweeping winds and the denizens of the local ecology all come together to put on a vibrant show for all to see, with evening primrose, verbenas, poppies, desert lilies and plenty of other colorful characters providing a breathtaking view of nature's splendor on an annual basis.
Bloom Season In Murrieta, California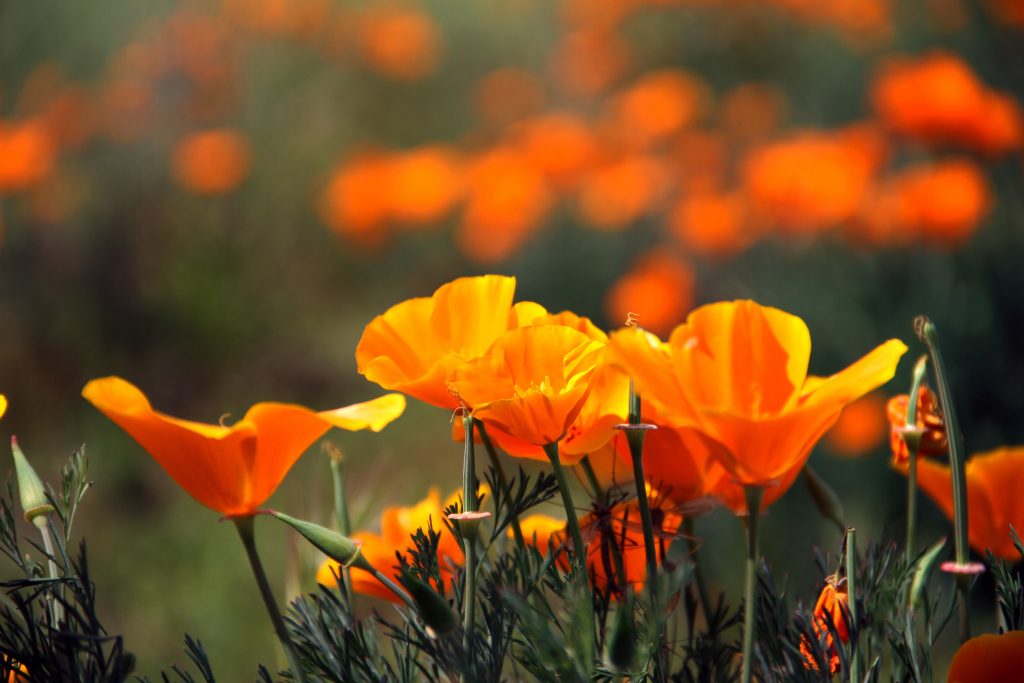 Murrieta's bloom season is truly one to behold. Especially during years of heavy rainfall and wind which precipitate the legendary Super Bloom you've probably seen pictures of in travel magazines and Instagram feeds. It's one of the handful of rare-but-magical ecological events (have you heard about the Fairy Shrimp?) to be found in the area — certainly to be treasured, and not to be missed.

To help you prepare for blooming season, we've put together a quick guide with the whats, hows, and whens. With our help, you'll be capturing breathtaking visuals to cherish for a lifetime — all while preserving the majesty of the region so that Murrieta explorers can enjoy this special phenomenon for years to come.
When Does The Bloom Happen?
This is a good question, and the answer is a little more complicated than you might think. That's because each type of flower grows and blooms on its own schedule — some come along in the early spring, others in the early or mid-summer… really, it just depends on the flower and its specific need for moisture, sunlight, temperature, and other factors.
That said, a generally smart rule of thumb to go with for California Bloom Season? Head out to Murrieta in late March, and throughout April and May. It's during these months that the flowers will be most fresh and vibrant… and, ideally, a late frost won't come along, meaning that they'll be preening for the sun all season long.

OK, What About The Super Bloom?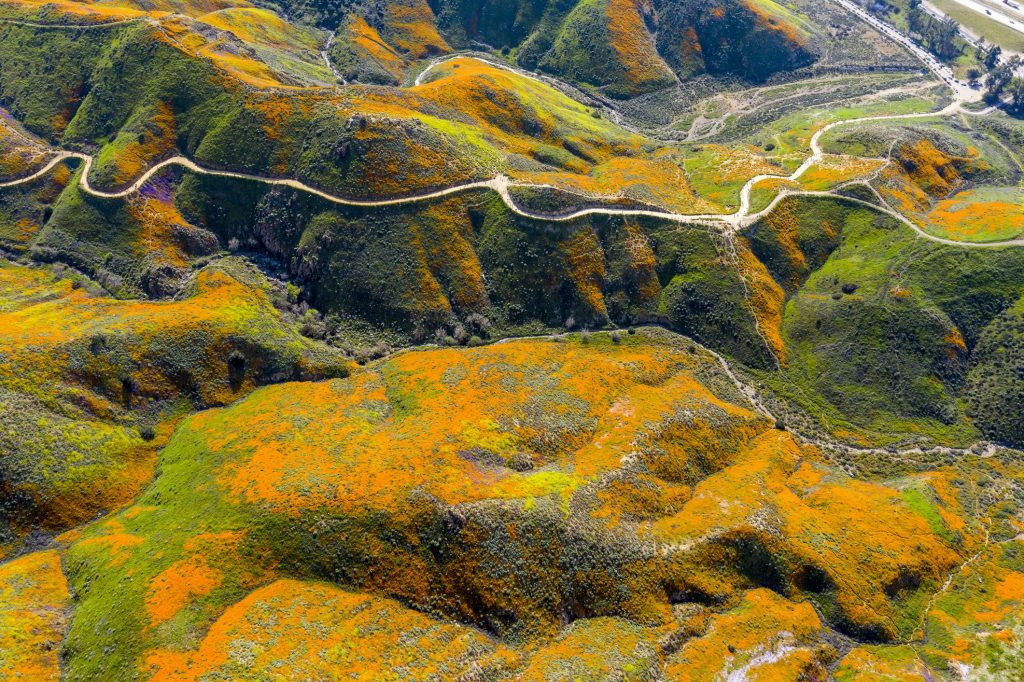 When it comes to epic the Super Bloom you might have seen pictures of in recent years (think 2017 and 2019), things get a little bit more complicated. That's because these super rare ecological events only happen when a handful of factors come together perfectly to set up the conditions necessary for a mass, perfectly timed bloom. That includes heavy rain (but not too heavy, lest opportunistic invasive grass species take over before flowers can establish themselves), consistent heavy winds in the winter (that carry wildflower seeds throughout the region), significant soil penetration, no flash floods (that might carry the wildflower seeds away), and undisturbed, gradually warming soil as we enter spring.

Talk about aligning all the stars, right?

This perfect sequence of phenomena is so rare that, prior to the almost back-to-back Super Bloom schedule of 2017 and 2019, it was generally believed that this kind of thing could only happen maybe once every 10 years or so.

While you might not catch the Super Bloom every year, California's wildflower blooming season is still quite the spectacle — even if you won't necessarily have to gently elbow your way past eager Instagrammers every year to see it.
Cool. Where Can I Find It?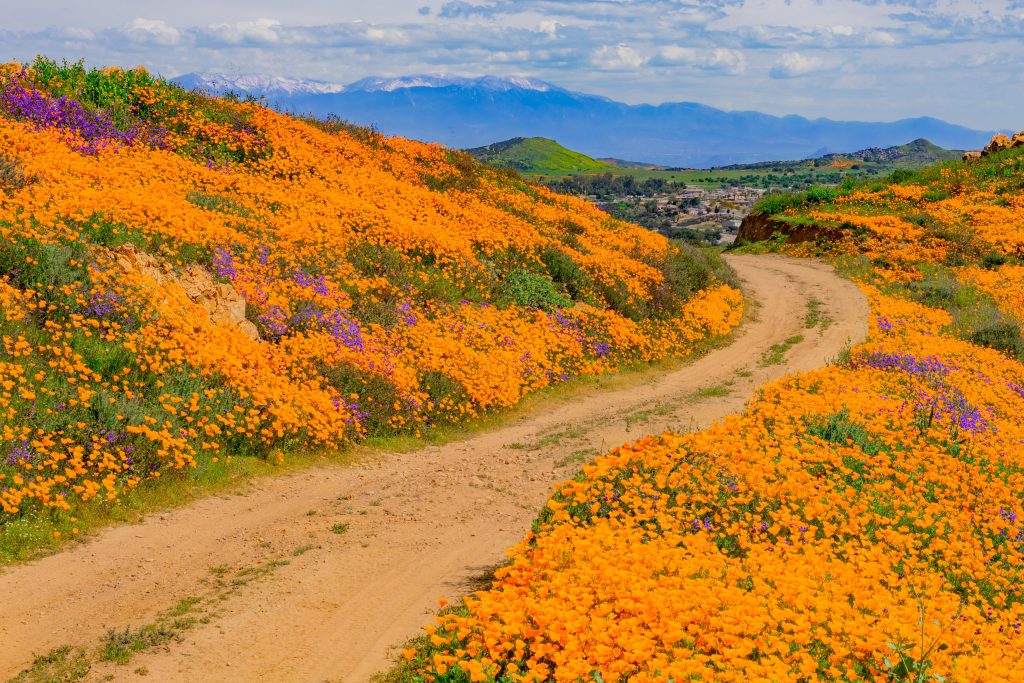 Those in search of some of the best bloom season views can catch them throughout Riverside county, where the California Poppy is especially voluminous.

For a great up-close view of blooming and other ecological vibrancy in action, you can check out the Walker Canyon Trail. The trailhead is easy to find at Lake Street and Walker Canyon Road. Parking should be plentiful throughout the season, and the widely loved trail is both easy to find and relatively to hikers of all levels.

Murrieta is a particularly great place to set up as your Bloom Season headquarters, thanks to its central Riverside County location, convenient amenities, and a reasonably large inventory of lodging properties throughout the season where you can comfortably rest in between days of exploration.
Did You Say "Sustainability"?
Sure did.

Earlier we mentioned "gently elbowing your way past eager Instagrammers", and while we certainly hope that no actual elbowing takes place in the making of your California bloom season memories, it's important that we remind you of a couple of important facts. They're as follows:

Flowers are fragile beings. They require our care and respect to thrive. For that reason, it's important that you avoid doing anything destructive when you're around them… In particular, it's a bad idea to trample them, because they can't survive if they're crushed underfoot. When experiencing bloom season in Murrieta, we ask that you stay on the beaten path and refrain from wading into the flowers. This keeps the bloom vibrant for other visitors to enjoy — and that's worth more than the perfect insta-pic.


Events like the Super Bloom can only happen under essentially perfect ecological circumstances. Those circumstances are only possible if the habitat in which they take place is well-preserved. This means staving off things like drought, ceasing the overproduction of greenhouse gases and carbon emissions, conserving local wildlife, and limiting the introduction of invasive plant and animal species. While you might not be able to control all of these factors personally, taking individual actions like using public transit rather than driving your own car, practicing water conservation during your visits, and adhering to California agricultural transport rules. Your fellow nature lovers will thank you.


Remember that people aren't the only beings who enjoy the bloom season. The Riverside County region and Walker Canyon areas are home to various wildlife species (including snakes, deer, and fowl). Be mindful to avoid disturbing them or their homes as you explore nature in the area, and remember that practicing safety is mutually important for you and the outdoor-dwelling locals.
While you explore Murrieta's bloom season, you won't want to miss all of the other activities you can explore. From horseback riding to mini-golf, to bites, sips, downtown nightlife and more, there's something exciting for everyone in our city… so why not book your stay in Murrieta today?