There's nothing quite like getting in or around water during Murrieta's gorgeous summer months, and with endless sun and several breathtaking freshwater lakes to choose from, Murrieta is one place where boating, fishing, swimming, kayaking, jet skiing, sailing, camping and picnicking is always within close range. Start planning your day on the water with this guide to just a few of the lakes and reservoirs that are within short driving distance from the city.
For more trip ideas, check out the rest of our blog!
Skinner Reservoir
Amidst the rolling hills of Winchester California lies Skinner Reservoir (also known as Skinner Lake), a 1,200-acre freshwater lake surrounded by a gorgeous 6,000 acre park. With 12 miles of shoreline to explore, you can boat, fish and picnic to your heart's content. The campground even has a 'splash pad' so you and your little ones can cool off in a garden-themed collection of giant water spouts and faucets. There is no body contact with the lake allowed, but the surrounding shade shelters, picnic benches, fire pits and campgrounds guarantee that you can still enjoy the water shoreside.
Looking to leave the shore and get on the water? Skinner Reservoir has two boat launch ramps, one on the southwest side of the Lake Skinner Recreation Area, the other at the Lake Skinner Marina. If you don't have a boat, no problem— the Lake Skinner Marina has fishing boats, pontoons, kayaks, canoes and other types of watercraft available to rent.
Anglers have the choice of fishing shoreside or taking a boat and fishing further out on Skinner Reservoir's beautiful waters. With a variety of freshwater fish species waiting to be hooked— including trophy bass, channel catfish, black and white crappies, rainbow trout, bluegill and striped bass— anyone who takes the time to fish Skinner Reservoir is sure to come away with something on their line. If you need supplies, a fully-stocked camp store with fishing necessities is always just a few steps away.
Lake Elsinore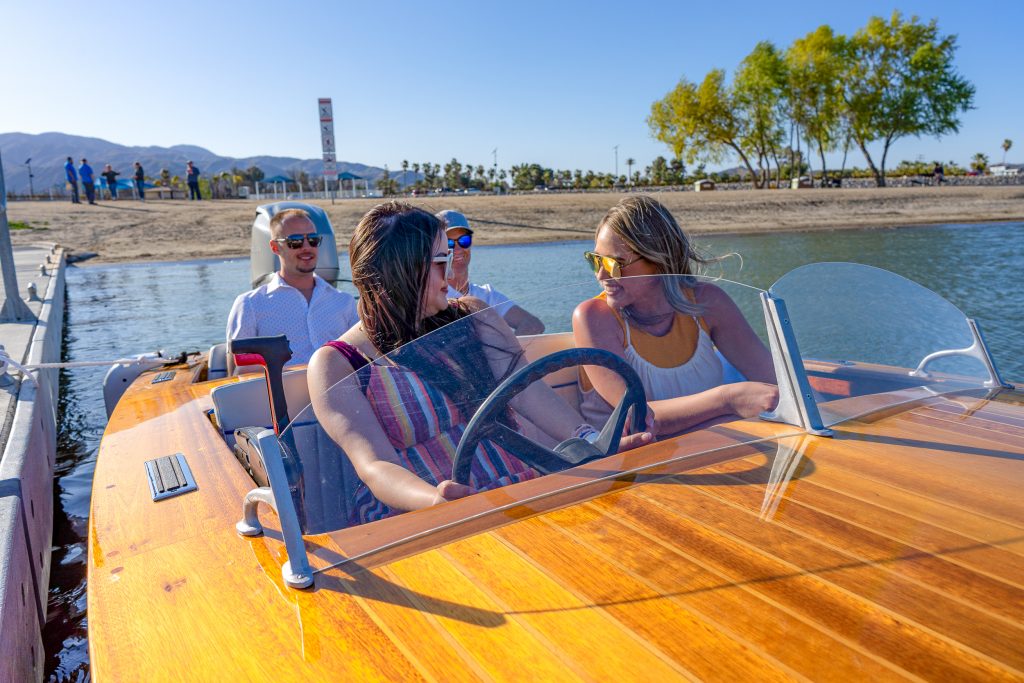 Let us introduce you to the largest natural freshwater lake in Southern California. Lake Elsinore offers sweeping views of the surrounding Ortega Mountains, and at 3,000 acres, has enough room for the whole family. Explore its 14 miles of shoreline at one of the lake's public beaches, many of which offer amenities like free parking, shade structures, picnic tables, barbeque pits, sand volleyball courts and more.
On the water, visitors can enjoy various activities like fishing, kayaking, windsurfing, boating, wakeboarding, water skiing and jet skiing. Feel free to bring your own boat or rent one and send it off at one of Lake Elsinore's many private boat launching areas, or use the lake's public boat launch at Launch Pointe Recreation Destination & RV Park.
Lake Perris
This freshwater gem, tucked behind the Bernasconi Hills and the Russell, Apuma and Armada Mountains, offers clean white beaches and sparkling blue water as far as the eye can see. Lake Perris is 3 miles long and 2 across, and is surrounded by the 8,000-acre Lake Perris State Recreation Area which offers many clean, accessible campsites. Enjoy the lake and the myriad wildlife that call it home at one of the nearly 300 picnic areas, tables and grills around the lake.
Speedboats, pontoons, jet skis, and non-powered watercraft are all allowed, so grab your favorite water-bound vessel and hit the lake! There are two boat launch ramps (8 boat launch lanes total), as well as boat rentals and storage available. Though the lake can accommodate up to 200 vessels, it fills up fast, so if you're hoping to get on the water make your reservation now!
For those wanting to cast their line into the lake's azure waters, Lake Perris is known for its excellent largemouth bass fishing, and also offers other species like catfish, crappie, carp, trophy-sized bluegill, redear sunfish, and rainbow trout!